Celebrate with a Cookie Cake from Barbee Cookies!
June 18, 2018
by Barbee Cookies Admin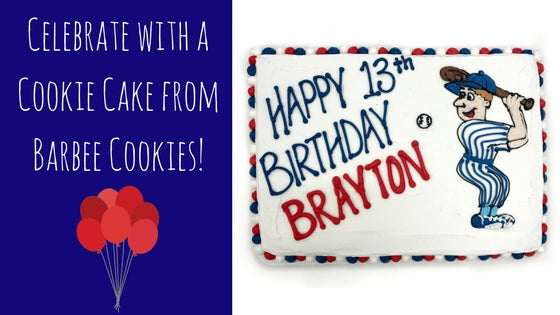 Birthdays, achievements, and milestones are important to celebrate in life. Be sure you make an event memorable with a cookie cake from Barbee Cookies! Our delicious cakes feature an entire full sheet of cookie goodness, big enough to share with family and friends. Baked from scratch, our cakes are made with top quality ingredients.
Each cake comes in chocolate chip, with the choice to add a standard message or custom design. The heavenly chocolate chip cookie is garnished with dense chunks of milk chocolate held in our delicious, savory dough. Complete the cake by adding our signature icing and bite-sized sprinkles.
Our talented team of bakers can create Hello Kitty themed cakes, sport-inspired, or even school logos for the graduate. To view our entire cookie cake gallery, click here.
Birthdays
Cookie cakes are a great addition to any birthday! Our cakes can be decorated with the child's favorite sport, artsy flowers, or even sprinkles galore. We can accommodate any age to make the birthday unforgettable.
Bachelorette/Wedding Showers
Love is sweet; honor the bride and groom (or just the bride) with an elegant cookie cake. Our cakes are perfect for wedding showers and bachelorette parties.
Baby Showers
Welcome a new bundle of joy with a lavish cookie cake from Barbee Cookies. The design can focus on the gender of the baby, the name, or make it gender neutral for those who are waiting for the surprise.
Graduation
Recognize the graduate with a spectacular cookie cake! Barbee Cookies can create cakes with school logos and colors. Contact us for more information.
Animal Parties
Do you have a special furry friend? Why not celebrate their birthdays too! Barbee Cookies can prepare cookie cakes celebrating your pet's next birthday.
Every celebration should be sweet, so purchase your custom cookie cake today! Call us at 918-369-7997 or visit us at our South Tulsa bakery to place your order.