Hallee's Heavenly Cinnamon Roll Cookie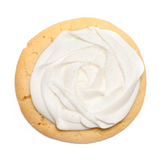 Even sweeter than a cinnamon roll!
This cookie is one of Barbee Cookies best-selling treats—and for good reason. Hallee's Heavenly Cinnamon Roll Cookies provide a creative yet familiar twist to the classic cinnamon roll. This thick and sugary dessert is laced with a swirl of flavorful cinnamon and crowned with a generous spread of buttery-sweet vanilla icing. It's the perfect blend of sweetness and spice to give you a truly unique cookie experience you won't find anywhere else. Hallee's Heavenly Cinnamon Roll Cookies were created by owner Kat's daughter, Hallee, which also makes them a special part of the Barbee Cookies family. Pair this craveable creation with a cup of coffee, but don't be surprised if your java quickly takes a back seat to this amazing cookie!
Order online for in-store, pick-up, or local delivery (in Tulsa) or contact us at 918-369-7997 to place your order today.
More from this collection