A Half-Dozen Gluten-Free - Cinnamon Roll Cookie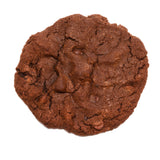 Even sweeter than a cinnamon roll!
Enjoy the richness of cinnamon and sugar with this Cinnamon Roll Cookie. Created by owner Kat's daughter, Hallee, these cookies blend the strong flavor of cinnamon with the smooth sweetness of vanilla icing to form a truly unique cookie experience you won't find anywhere else. This cookie is bound to melt in your mouth and have you craving more.
This cookie is available in gluten-free. It's perfect for catering, parties, and of course, celebrating life! Made fresh daily. Order online for in-store, pick-up, or local delivery (in Tulsa) or contact us at 918-369-7997 to place your order today.
More from this collection