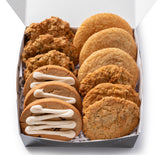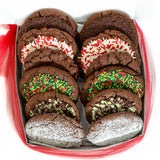 Why have one when you can have them all?
A Dozen of the Favorites is packed with some of our most unique and best-tasting treats. This box started with Uncle Frank, who made the special request of our co-founder Kat to create a product full of all his favorite cookies. Now, we get to share in his excitement over the Oatmeal Raisin, Triple Chocolate, and more! Inside you'll find:
1 - Hallee's Heavenly Cinnamon Roll Cookie: A creative yet familiar twist to the classic cinnamon roll. This thick and sugary dessert is laced with a swirl of flavorful cinnamon and crowned with a generous spread of buttery-sweet vanilla icing. 
1 – Raspberry Shortbread: Simple shortbread brightened with bold raspberry preserves and a sweet almond drizzle.
1 – Triple Chocolate: Our Triple Chocolate cookie blends a thick blanket of chocolate buttercream frosting and chocolate sprinkles to create the perfect cookie for all chocolate lovers. 
1 – Snickerdoodle: Spice up your snacking with our Snickerdoodle cookie. Each bite into this buttery cookie is enriched with sparks of subtle cinnamon, adding a little extra fun into your day.
1 – Oatmeal Raisin: Lumpy, bumpy, and oh so good! Start your morning with a hearty blend of oatmeal and raisins—in a cookie, of course!
1 – Blissful Birthday Cake Cookie: It's all the fun of confetti and the taste of cake in one colorful treat! This lush buttercream cookie scattered with sprinkles promises to make your birthday—and any other day—that much sweeter!
1 – Lemon Raspberry Cookie: This citrus cookie packs a zesty punch. Need a little sunshine to brighten up your day? Just one bite of the fresh icing and fruity raspberry highlighting the tangy lemon taste of this cookie is sure to put a swing in your step and a smile on your face!
1 – Iced Sugar: Alluring and elegant, our Iced Sugar cookie sparkles with its shining sugar crystals swimming in a pool of white buttercream icing. Indulge in the finer things with this cookie by your side.
1 – Sugar: Often understated, our Sugar cookies shine with their soft cookie base encrusted with the refined sugar crystals that give it its name.
1 – M&M: M&Ms are the star of this carefree cookie. Hand-pressed with all the care our cookies always come with, this snack gets a little bit extra wild color and chocolate flavor with the addition everyone's favorite chocolate candy.
1 – Double Chocolate: Creamy milk chocolate playfully whisked into a thick chocolate cookie dough means this cookie is bringing twice the sweetness.
1 – Chocolate Chip: A box of favorites isn't complete without a comforting Chocolate Chip cookie. Pull it apart to find countless chocolate morsels in the softness of a friendly dessert.
Cookies are made fresh daily!
Some cookies are available deliciously gluten-free.
Want to mix it up? Check out our Build-a-Box option.
Please allow 24-48 hours for your order to be baked, packaged, and ready for pick up, delivery, or shipping.
More from this collection