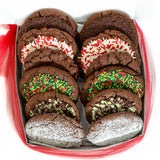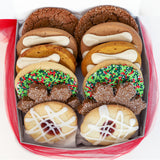 There's nothing quite like the classics.
Stir up fond memories or make some new ones with this classic cookie collection! This heart-warming selection is reminiscent of the childhood treats you used to make with your mom or the sweet smell of desserts coming from Granny's kitchen. We wanted to bring you a blast from the past with this box packed with love. And caring is sharing, so we've lovingly packed two of each flavor inside for every to grab a taste!
2 – Chocolate Chip: Enjoy the comfort of a classic Chocolate Chip cookie. Pull it apart to find countless chocolate morsels in the softness of a friendly dessert.
2 – Snickerdoodle: Spice up your everyday snacking with our Snickerdoodle cookie. Each bite into this buttery cookie is enriched with sparks of subtle cinnamon, adding a little extra fun into your day.
2 – Raspberry Shortbread: Simple shortbread brightened with bold raspberry preserves and a sweet almond drizzle. The perfect tea cookie or light afternoon bite.
2 – Molasses: Sugar and spice and everything nice—that's our Molasses cookie! Every bite is filled with a soft crunch from the ornate sugar crystals, giving way to the sweet and spicy subtly that makes this cookie so good.
2 – Oatmeal Raisin: Lumpy, bumpy, and oh so good! Start your morning with a hearty blend of oatmeal and raisins—in a cookie, of course!
2 – Sugar Sugar: Often understated, our Sugar Sugar cookies shine with their soft cookie base encrusted with the refined sugar crystals that give it its name.
Cookies are made fresh daily!
Some cookies are available deliciously gluten-free.
Want to mix it up? Check out our Build-a-Box option.
Boxed dozens are carefully and artfully presented in an attractive box and bow.
Please allow 24-48 hours for your order to be baked, packaged, and ready for pick up, delivery, or shipping.
More from this collection