A Dozen Of The Salted Cornflake Cookies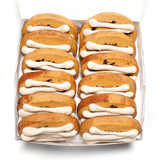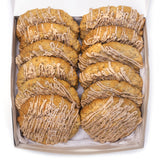 Indulge in the perfect combination of sweet and salty with our Salty Cornflake Cookie. This delectable treat features a mouthwatering blend of oats, cornflakes, and sea salt, creating a unique flavor profile that is sure to satisfy your sweet and savory cravings. With each bite, you'll experience a delightful crunch from the cornflakes, while the oats provide a chewy texture that perfectly complements the subtle saltiness. The balance of flavors is impeccable, making this cookie a true crowd-pleaser. Whether you're enjoying it as an afternoon snack or as a dessert after a meal, the Salty Cornflake Cookie is the perfect choice for those who love the combination of sweet and salty. So why wait? Treat yourself to this delicious cookie and experience the perfect balance of flavors for yourself!
Cookies are made fresh daily!
This cookie is available deliciously gluten-free.
Want to mix it up? Check out our Build-a-Box option.
Please allow 24-48 hours for your order to be baked, packaged, and ready for pick up, delivery, or shipping.
More from this collection