A Dozen Chocolate Chip Cookies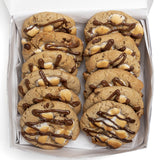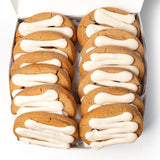 It's like childhood in a box!
Originally created in the 1930s, this quintessential cookie has remained a household name. Our gourmet version of this classic embraces the cookie's humble origins, melding creamy chocolate morsels into a rich dough to create a friendly and familiar dessert. We hand-press each cookie with a little extra love and make them fresh daily. They pair well with a cup of coffee or a scoop of ice cream, any time of the day! Grab a dozen to share or gift!
Cookies are made fresh daily!
This cookie is available deliciously gluten-free.
Want to mix it up? Check out our Build-a-Box option.
Please allow 24-48 hours for your order to be baked, packaged, and ready for pick up, delivery, or shipping.
More from this collection