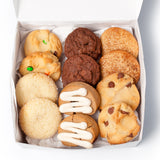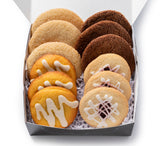 Sugar, sugar—aww honey, honey—you are my cookie baby!
Don't let the name fool you! These "babies" are what most people consider a regular-sized cookie. Weighing in at 1 oz. and 1/3 the size of our standard gourmet cookies, they are just the right size for snacking and sharing! 1 M&M Baby: This hand-pressed cookie brings refined sweetness and a colorful M&M celebration to any party!
2 Sugar Babies: Sweet sugar crystals bring an understated elegance to this refined cookie.
1 Hallee's Cinnamon Roll Cookie Babies: A satisfying sugary dessert laced with a swirl of flavorful cinnamon and crowned with a generous spread of butter-sweet vanilla icing.
1 Snickerdoodle Babies: A warm and friendly infusion of cinnamon into this buttery cookie goodness makes this treat a mouth-watering favorite.
1 Chocolate Chip Babies: Comforting chocolate morsels melt in your mouth with every bite.
1 Double Chocolate Babies: Sweet milk chocolate nestled into chocolate cookie dough makes this double-chocolate cookie twice the treat.
1 Iced Sugar Rosette Baby: These beauties add the perfect pop of color, the "icing on the top" of the stack!
More from this collection